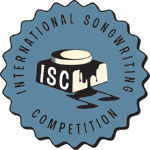 El plazo de la edición 2011 del concurso internacional de compositores, International Songwriting Competition (ISC) se ha prorrogado hasta el 1 de noviembre de 2011. El concurso está abierto a músicos de todo el mundo. El primer premio está dotado con $25,000 (USD) en metálico y $20,000 en equipo musical. Además, a los ganadores se les da promoción.
El concurso cuenta con categorías de músicas del mundo (world music), música latinoamericana (Latin), folk, cantautor, etc. Las categorías en inglés son: Pop/Top 40, Rock, Country, R&B/Hip-Hop, AAA (Adult Album Alternative), Folk/Singer-Songwriter, Adult Contemporary (AC), Gospel/Christian; Americana, Blues, Jazz, Latin Music, Instrumental, Dance/Electronica, Comedy/Novelty, World Music, Children's Music, Lyrics Only, Teen, Performance, y Music Video. Es recomendable que los grupos de folk participen en la categoría de world music puesto que en Estados Unidos folk suele referirse a música de cantautores, no a la músiva tradicional.
Entre los jueces de la edición de 2011 se encuentran los músicos siguientes: Tori Amos; Jeff Beck; Lucinda Williams; Billy Currington; My Morning Jacket; Kelly Clarkson; Keane; McCoy Tyner; Wynonna; Francesca Battistelli; Tegan and Sara; Massive Attack; Michael W. Smith; Alejandro Sanz; Johnny Clegg; Jeremy Camp; Ray Wylie Hubbard; John Mayall; Craig Morgan; Basement Jaxx; James Cotton; Sandra Bernhard; Trombone Shorty; Robert Earl Keen; Black Francis (The Pixies); Mose Allison; Robert Smith (The Cure); Amadou & Mariam; Darryl McDaniels (Run D.M.C.); Toots Hibbert (Toots & The Maytals); Matt Thiessen (Relient K); and Chayanne.
Asimismo, participan como jueces los siguientes ejecutivos de la industria discográfica: Monte Lipman (Presidente, Universal Republic Records); David Massey (Presidente, Mercury Records); Brian Malouf (Vicepresidente A&R, Walt Disney Records); Bruce Iglauer (Fundador/Presidente, Alligator Records); Angel Carrasco (Sr. Vicepresidente A&R, Latin America, Sony/BMG); Ric Arboit (Presidente, Nettwerk Music Group); Anastasia Brown (supervisora de música, FORMAT); Allison Jones (Vicepresidente de A&R, Big Machine Label Group); Steve Lillywhite (productor); Dan Storper (Presidente, Putumayo World Music Records and Putumayo Kids); Kim Buie (Vicepresidente A&R, Lost Highway); Douglas C. Cohn (Sr. Vicepresidente, Music Marketing & Talent, Nickelodeon); Trevor Jerideau (Vicepresidente de A&R, J Records); Antony Bland (A&R, American Recordings); Steve Smith (Vicepresidente de A&R, Aware Records); Cory Robbins (Fundador/Presidente, Robbins Entertainment); y Dr. Demento (presentador del programa Dr. Demento Show).
Los patrocinadores de ISC son: Presonus, Lowden Guitars, Sennhaiser, ASCAP, Berklee College of Music, Posse, D'Addario, Thayers, SongU.com, Songtrust.com, Online Gigs, The Music Business Registry, Independent Mastering, Indie Venue Bible, George Stein, Esq. Sonicbids, Taxi, y Music Submit.
Los artistas pueden enviar todas las canciones o temas que quieran o presentar el mismo tema en más de una categoría. La música se puede enviar a través de la web http://www.songwritingcompetition.com.